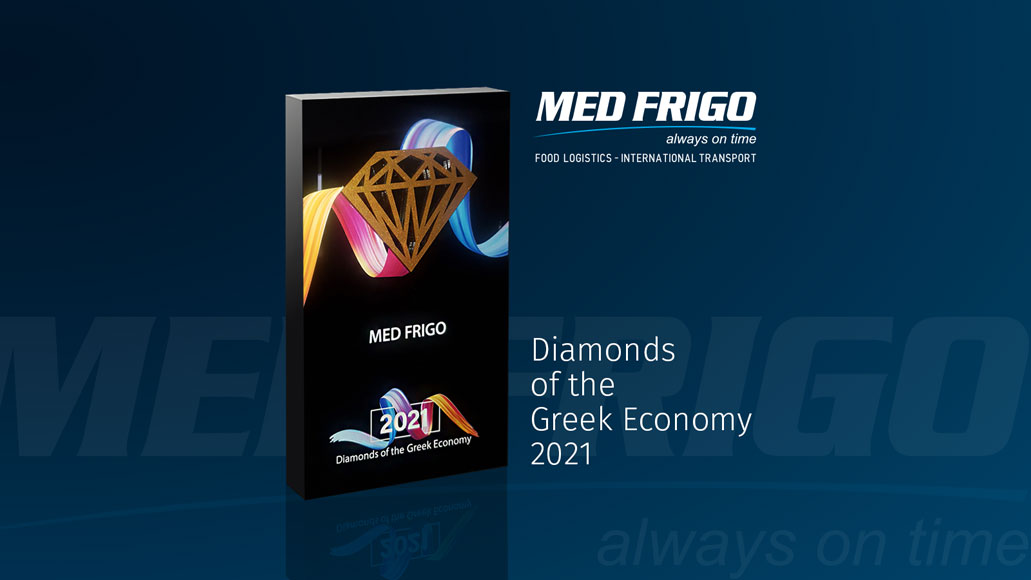 MED FRIGO again, among the best of Greek Entrepreneurship
07/13/2021 - 10:52
For the third time, International Transport and Logistics company MED FRIGO was acknowledged as one of the "Diamonds of the Greek Economy 2021".
The award was awrded in the context of the 18th Business Excellence Meeting held under the auspices of the Ministries of Development and Investment, the associations of Attica-Piraeus Industries, Exports, Thessalian Enterprises and Industries, Cretan Exporters, Greek-German and Greek-Chinese chambers on July 7th 2021 at the "Galazio" estate in Elliniko, Attica by the publishing organization New Times Publishing.
Specifically, MED FRIGO awarded for its excellent performance Based on financial results with specific criteria, certified the healthy entrepreneurship and sustainable development, its extroverted actions, the quality and reliability of its services, its support in human resources and its contribution to employment, but also its activity in matters of corporate and social responsibility.
This new honorary distinction is not just another recognition of its steady upward course, but also a reward for its targeted and successful actions in a period of sanitarian and financial challenges.
The event was honored by the presence of government and the opposition representatives, business groups from all over the country, as well as representatives of commerce chambers.
Congratulations to everybody, employees and partners who contributed to this success. Without them nothing would be possible.
The award, on behalf of MED FRIGO, was received by the Commercial Director of the company, George Vasilakopoulos.
---